Sustainable Nutrition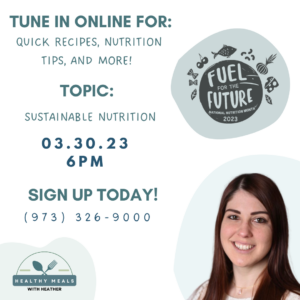 LIVE SESSION WITH DIETICIAN HEATHER MARRETTA!
THURSDAY, MARCH 30TH AT 6PM
TOPIC: SUSTAINABLE NUTRITION
SIGN UP TODAY!
973-326-9000
NJPNI's very own Patient Focused Dietitian, Heather Marretta, will be hosting a LIVE session about Sustainable Nutrition on Thursday March 30th at 6pm.   We would love for you and your family to tune in Online for Nutrition Tips, Quick Recipes and More! If you have any questions please call our office at 973-326-9000. Everyone is welcome! We hope to see you there!
SIGN UP BELOW!
FUN FACT: National Nutrition Month, celebrated each year during March, focuses on the importance of making informed food choices and developing sound eating and physical activity habits.
Follow Us on Instagram: @njpni @TheBrainyDietitian
Date: 03/30/2023 (Thu.)
Time: 6:00pm - 7:00pm EDT
Location: ZOOM
MY RSVP
Will you be attending the event?